---
---
Universal. Low cleaning. Ergonomical.
The SATAjet 1000 B is the all-rounder among flow cup spray guns. Thanks to the wide range of nozzles and the various accessories such as pressure and agitator cups as well as extensions, a wide variety of materials can be processed.
Product Benefits
Allrounder: Thanks to a wide range of nozzles and diverse accessories, a wide variety of materials can be processed excellently
Simplified cleaning: The smooth surface of the pistol body makes cleaning easier for the user
QC-Quick Change thread: Simple and fast air nozzle change with only 1.5 turns
Also for hard-to-reach areas: Thanks to the available extensions, the SATAjet 1000 B can handle hard-to-reach or narrow and deeper areas without any problem.
Two paths to the perfect result: HVLP and RP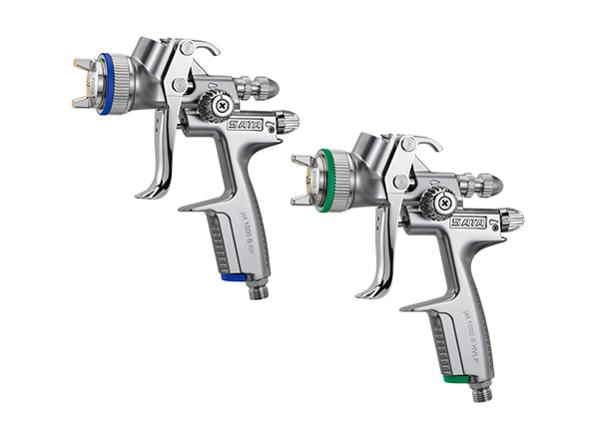 HVLP: Extra Economical - HVLP paint spray guns achieve particularly high transfer rates with their low-pressure technology.
RP: Extra Fast - RP spray guns stand for maximum working speed with optimized high-pressure technology and low overspray.
Both variants can be used very flexibly, meet the highest demands on the painting result and clearly exceed the transfer rates of 65 % required by the VOC directive.
Technical Information – RP

| | |
| --- | --- |
| Air consumption | 275,0 - 290,0 Nl/min |
| Max. inlet air pressure | 10,0 bar |
| Packaging unit | 1,0 Pieces |
| Net weight | 0,092 - 1,110 kg |
| Recommended dynamic inlet pressure | 2,0 bar |
| Recommended spraying distance | 13 - 21 cm |
| Cup connection type | QCC |
| Nozzle Size | 0,8 / 1,0 / 1,3 / 1,6 / 2,0 / 1,8 / 2,5 / 3,0 / 4,0 / 2,5 HV / 3,0 HV / - / 1,7 / 1,9 / 2,1 |
| Nozzle Technology | RP |
| Color Code System (CCS) | ✓ |
| QCC | ✓ |
| Quick change | ✓ |
| SATA adam compatibility | ✓ |
Technical Information – HVLP

| | |
| --- | --- |
| Air consumption | 350,0 Nl/min |
| Max. inlet air pressure | 10,0 bar |
| Packaging unit | 1,0 Pieces |
| Net weight | 0,092 - 1,141 kg |
| Recommended dynamic inlet pressure | 2,0 bar |
| Recommended spraying distance | 13 - 17 cm |
| Cup connection type | QCC |
| Nozzle Size | 1,4 / 1,7 / 1,9 / 2,1 / 1,3 |
| Nozzle Technology | HVLP |
| Color Code System (CCS) | ✓ |
| QCC | ✓ |
| Quick change | ✓ |
| SATA adam compatibility | ✓ |
---